Connecting healthcare providers and patients: e-health platform

Trillio is a portable prescription assistant that helps you remind to take your medicine at the right time. Because of its connection with the caregiver or the healthcare system it receives all configurations and reminders automatically. 
Challenge

La Comanda wanted to create a device that could help people to take their pills at the right time. It needed to be simple and automated, they said. Over 75% of the potential clients don't have an affinity with technology.
Approach

Remind seniors when they need to take their medication. How do you get all that information on a device without having to put every detail in yourself? 
We solved this question combining IoT & API management with our backend skillset. 
The caregiver uses the webapp to insert the prescription of the patient and how often to take the medicine. We then use API technology to push this information to the IoT (Internet Of Things) device. That way the patient just gets his notifications when he needs to take his meds.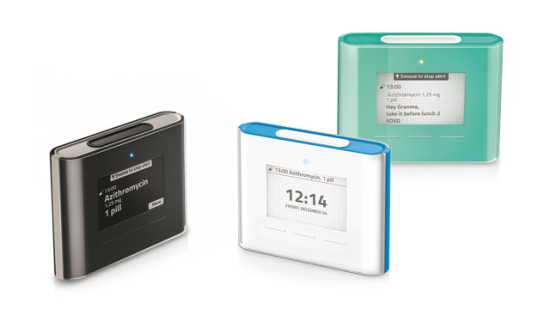 Mobile & Web app

The doctor or caregiver uses the web or mobile app for two reasons. 
Insert the patient's prescription. This information then automatically is pushed to the IoT device of the patient.
Real time monitoring, there is also information going back to the doctor or caregiver. He can check if the patient is taking his medication correctly
 
Internet of Things

The Trillio device is always connected to the internet using an embedded sim card so details about any prescription can go back and forth at any time. The patient gets a notification when he needs to take his pills (indicated on the display: name of medication, dosage, etc) and pushes the snooze button when he did. As simple as that.
API can take us further

Pilot in this project is Italy where we also created a connection with the pharmaceutical database. This means that we can visualise the details of any medicine on the display. 
In our Province of Trento, currently doctors and pharmacists are already using a connected system where a paper prescription isn't needed anymore. With Trillio it will be possible to close the circle so that as soon as the Doctor writes your prescription in the Health Record, medication informations are available right away in Trillio, even before you grab your medicine in the pharmacy. All this is possible when you have the right architecture, and the right (Thread) Solutions with you!
The next story could be yours.

Contact us through one of our channels, describe the challenges you would like to face and together we will find the suitable solutions.
Other successful stories

Every time we complete a project it is an opportunity to learn new things, grow and improve ourselves. Find out how companies similar to yours have exploited our know-how to carry out their project!